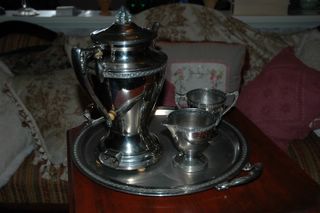 Velociman
pines for an old time percolator. I can't say as I blame him.
It's a taste that can't be duplicated elsewise.
I have an old stovetop percolator (in the South, pronounced: purr' cue lay' tur) that I take camping, and it makes a mean pot of coffee over a campfire. Yes, I know the purists say dump it in the pan and toss in some egg shells, but I'm funny this way.
But pictured above, is our fancy-go-to-meetin' percolator.
The little bride found it at a flea market some time back, and it makes a wonderful pot of coffee that never ceases to amaze visitors.
Of course, most have never seen one of these jewels, but old farts like me and V. remember sitting around with the folks, amorning, and drinking coffee from a percolator. Even the sound it makes is friendlier than that awful drip thing on the kitchen counter.
This one is circa 1940's and is trying to emulate a silver coffee set. Notice the tray, creamer and sugar. I didn't dig out the cord because I assume you assumed there is one. There is. It fits to the two prongs on the base. Just like on grandma's iron.
On second thought, I'm going to get the cord out and make me a pot of coffee.